Chcesz kupić bongo? Koniecznie przeczytaj!

Chcesz kupić bongo, a przeraża Cię ilość dostępnych na stronie produktów? Nie wiesz czym się kierować podczas wyboru i na co zwrócić uwagę? Zapraszam Cię do przeczytania naszego krótkiego poradnika, który ułatwi Ci podjęcie decyzji.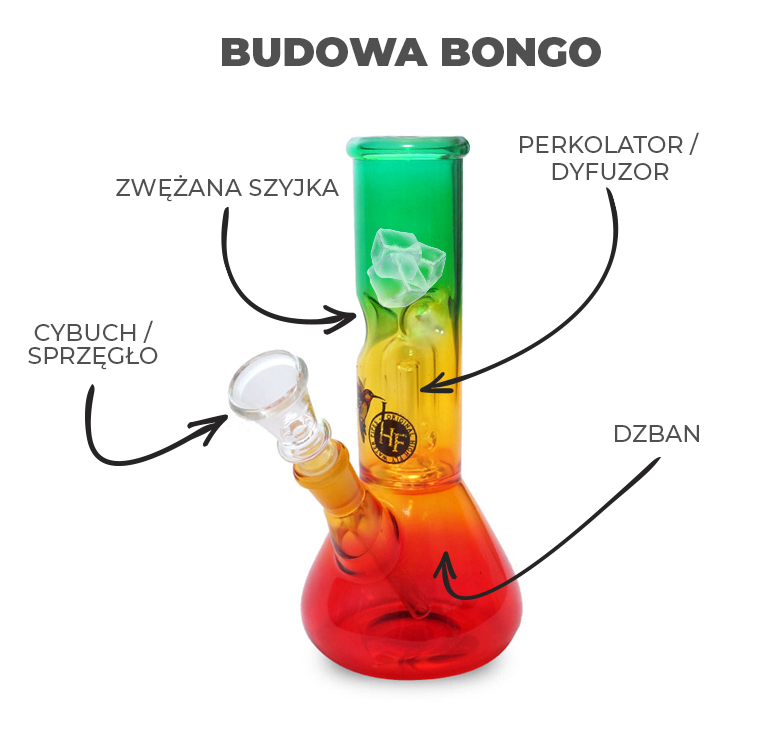 Szklane czy akrylowe?
Zacznijmy od tego z jakiego materiału fajkę wybrać. Każdy materiał ma swoje atuty. Szkło, które jest z natury chłodne dodatkowo wspomaga chłodzenie dymu, co jest bardzo ważne w prawidłowej filtracji. Dodatkowo szkło nie pochłania zapachów używanych mieszanek ziołowych lub tytoni. Jednak kiedy chcesz używać bonga w plenerze lub zabierać je w podróże zdecyduj się na te wykonane z akrylu.
Jaki rozmiar wybrać?
Rozmiar fajki w dużej mierze zależy od przeznaczenia bongo. Jeśli jest ono do użytków domowych lepiej wybrać duże bonga, jeśli chcesz z nim odkrywać świat raczej wybierz bongo mniejszych rozmiarów.
Wysokie bonga często wyposażone są w zwężaną szyjkę.
Warto wiedzieć, że nie jest to tylko element, który ma zwiększać atrakcyjność fajki. Zwężenie stosuje się, aby móc umieścić w fajce kostkę lodu, która dodatkowo schłodzi dym. Według znawców tematu przekłada się to na głębsze doznania podczas palenia.
Czy to wszystko co muszę wiedzieć?
Jeszcze jedna sprawa! Zwróć uwagę czy fajka, którą wybierasz jest wyposażona w dyfuzory oraz perkolatory. Te pierwsze pełnią dodatkową funkcję filtrującą, a więc ważne żeby było ich dużo. Ale nie skreślaj fajki, która Ci się podoba, a nie jest w nie wyposażona. Dyfuzor możesz w każdej chwili dokupić do wybranej przez siebie fajki. Perkolatory to spirale lub rurki, które rozszczepiają dym. Odpowiadają one za dodatkowe chłodzenie dymu i poprawiają jego smak.